Innovative App Development for Any Industry
Is your company looking for the perfect app? Then we have the experience and expertise needed to develop a solution that fits your needs, regardless of industry.
Trendware's team of skilled app developers works with you to deliver tailored, user-friendly, and efficient solutions.
Contact us today for a price for app development tailored to your needs. Use the form here or contact us by email or phone. We are ready to help you find the right app solution.
More than 30 Years of Experience
With Trendware, you get a partner with more than 30 years of experience in app development for various platforms such as Android, iOS, and Windows. Our skilled employees have a wide range of skills in web and database development and project management. They are always ready to solve your challenges.
If you need to integrate with other systems, we have the knowledge and skills to get you there. We work hard to ensure that your company is prepared for future challenges.
As your IT supplier, we guarantee you a reliable partner always ready to help you reach your goals!
Reliable Solutions that Suit Every Industry
App and Software Development - Solutions that Suit Your Needs
Trendware offers development of apps and software adapted to your unique needs and requirements. Our skilled developers have several years of experience and expertise in providing user-friendly and efficient solutions for small and large companies across various platforms such as the web, iOS, Android, and Windows.
We work closely with you to ensure you get the best solution that meets your needs and requirements. We are always up-to-date with the latest technologies and trends in app and software development; therefore, our solutions are innovative and can meet the challenges you may face.
Read more about what we can do for you in the other tabs, or contact us today to hear more about our solutions and get an offer that suits your needs. If you have any requirements or wishes not described, you can be sure that we have tried most things, and what we have yet to try, we can undoubtedly knit together.
We are ready to help you take your business to the next level!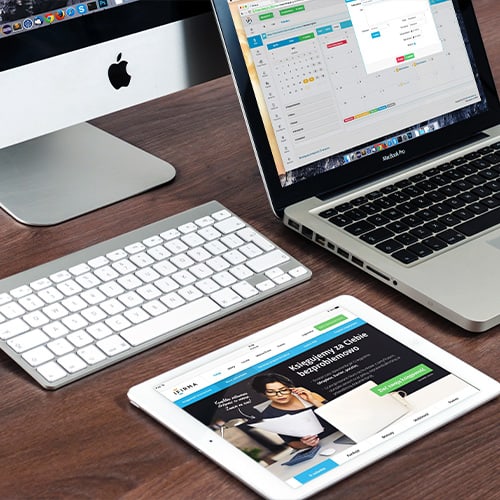 Modern and Future Prove Web Development
Web development is a key component of the modern digital world. With web applications, you can deliver your products and services directly to your users in an efficient and accessible way.
Web development also enables integration with other systems and third-party platforms. With the development of tailored APIs, you can achieve a unique and tailored solution.
At Trendware, we have extensive experience with web development. We have created effective solutions for several different industries, for example:
ECITSOFT is a web solution that gives users access to data and a wide range of functions from the accounting system Visma via a browser.
Evercalc, now KlarCalc, is a total web solution for the electrical and plumbing industry for quotations across wholesalers with the correct prices and much more.
SOS web solution for managing licenses in the company's departments, where one can verify programs on one device before access to one or more systems is granted.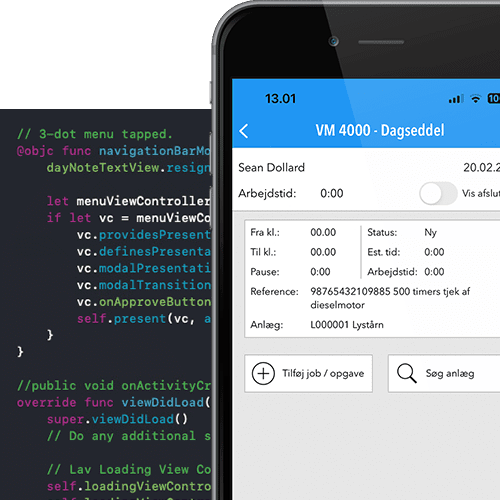 Become Mobile: We Develop Your App for iOS, Android and/or Windows
Mobile applications have become an indispensable part of our everyday life. It is essential to have an efficient and user-friendly app that works across different platforms. We make tailor-made solutions for iOS, Android, and Windows.
We have been delivering mobile app solutions since 2013 and have experience integrating existing database solutions and making them portable. We have also developed solutions integrating with Visma and other customer-specific solutions in the MSSQL database.
We can help you with everything from advice and requirements specification to testing, implementation, and operation of your project.
Contact us today to find out more about what we can do for you!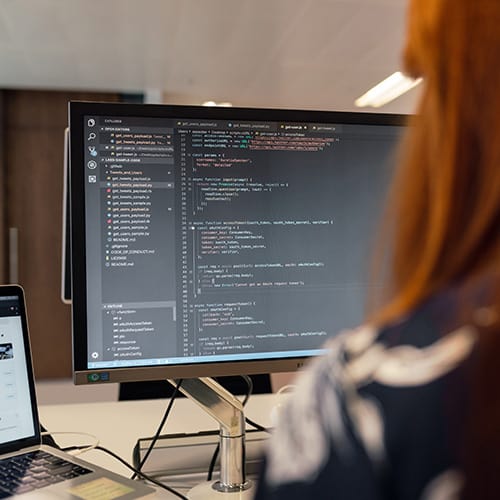 Efficient and Reliable Software Development Adapted to Your Needs
At Trendware, we have extensive experience developing advanced software solutions for Windows, regardless of whether it involves many simultaneous users, using a local or online database, integrating with other online systems, and communicating with various hardware.
Whether your solution must work across multiple devices or platforms, you can get a complete solution delivered as we cover development for the most common devices and platforms.
We focus on delivering reliable and stable solutions that pass most user tests and work hard to find the right solution for your specific needs that helps you grow your business.
If you have an idea for a project, we will happily offer a solution with new possibilities that can certainly meet your expectations. Contact us today.
Meeting
Our work progress starts with a meeting where we determine your wishes and needs for the final product. There will typically be an IT architect present who has an understanding of both the technical part and the business parts.
Offer
Then, we formulate a requirements specification that reflects as precisely as possible what the end product is. The specification document must be approved before we prepare a competitive offer with estimates for price and delivery. If the proposal is approved, we will begin programming.
Development
During development, you will be continuously updated on the project's status and informed of any challenges. Should some functions need to be adjusted, we will discuss them with you.
Contact us today to discuss how we can help you with your development project.
Contact us
Products
Read more about products we have developed for the maintenance and inspection of equipment.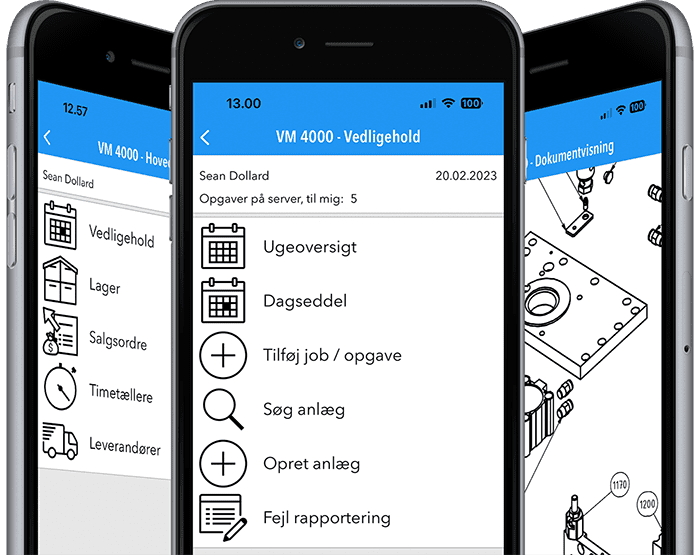 VM 4000
Save time and money with the VM 4000 maintenance system - preventive and remedial, as well as stock register for both PC and mobile devices. Can be adapted to your needs.
Read more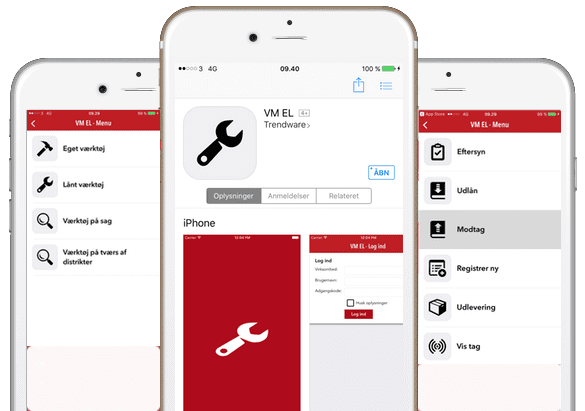 VM EL
Lending, inspection and registration of tools, electric panels, and more for PC and mobile devices. VM EL helps you, among other things, to comply with statutory inspections safely and efficiently. (Only in Danish)
Read more
Meet The Trendware Team
Our team has over 30 years of experience developing apps and software for Web, iOS, Android and Windows.
With us as your IT supplier, you are secure now and in the future.
- We are ready to realize your app idea.
Sean Dollard - CEO
Torben Melander - Data Engineer
Birk Bonniksen - Data Engineer
Stig Sørensen - Accountant